We are a network of researchers from ten organisations in seven countries on three continents.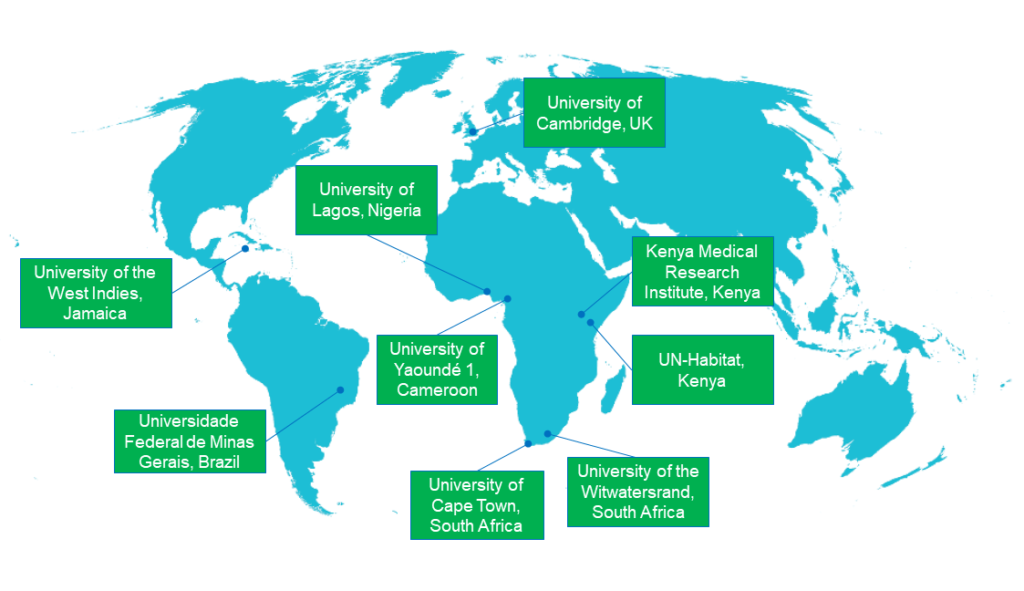 ---
On this page are the institutions, Principal Investigators and core staff for the GDAR Spaces research, starting in 2021. A list of researchers and staff engaged with the first period of GDAR research, 2017-2021 can be found here.
Jump to:
---
Brazil
Waleska Caiaffa. Director of the Belo Horizonte Observatory for Urban Health.
---
Cameroon
Health of Populations in Transition Research Group (HoPiT), University of Yaoundé 1
Jean Claude Mbanya. Professor of Medicine and Endocrinology at the Faculty of Medicine and Biomedical Sciences; Consultant Physician; Director of the Health in Transition Research Group; Director of the National Obesity Centre University of Yaoundé; Chief of the Endocrinology and Metabolic Diseases Unit at the Hospital Central in Yaoundé.
Felix Assah. Deputy Director and Clinical Fellow. Dr Assah is undertaking a population-based study of the links between objectively measured physical activity, metabolic disease risk and rural and urban living in Cameroon.
---
Jamaica
Alafia Samuels. Joint Lead for GDAR. Honorary professor at the George Alleyne Chronic Disease Research Centre, Deputy Dean for Research and Graduate Programmes, Faculty of Medical Sciences, University of the West Indies.
Marshall Tulloch-Reid. Professor of Epidemiology and Endocrinology. Director of CAIHR. Co-Director of the Caribbean Branch of the US Cochrane Centre.
Georgiana Gordon-Strachan. Director, Tropical Metabolism Research Unit.
---
Kenya
Charles Obonyo. Chief Research Officer. Epidemiologist with an interest on evidence synthesis, physical activity and dietary determinants of NCD and childhood obesity.
Pamela Wadende. Psychologist & Senior Lecturer (Kisii University)
Nigeria
Taibat Lawanson. Co-Director of the Centre for Housing and Sustainable Development.
---
South Africa
---
UK
Tolullah Oni. Director of the GDAR Network, Lead of the Global Diet and Physical Activity Group, MRC Epidemiology Unit, University of Cambridge and Extraordinary Professor, UrbanBetter lab, Innovation Africa@UP, University of Pretoria.
Nick Wareham. Director of the MRC Epidemiology Unit, and Co-Director of the Institute of Metabolic Science, University of Cambridge.
Mayami Abdulla, GDAR Spaces Coordinator, MRC Epidemiology Unit
Pamela Carbajal Perez, GDAR Spaces Project coordinator, MRC Epidemiology Unit
---
UN-Habitat