GDAR researcher Muhammad Balarabe features in this a Cambridge Development and Alumni Relations profile of members of the Mastercard Foundation Scholars Program Meet the future African leaders committed to helping achieve a climate-resilient and sustainable future.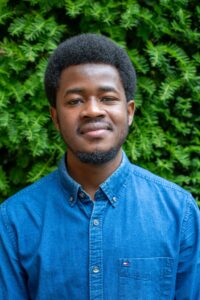 Muhammad Balarabe is from Nigeria and came to Cambridge to study for a one-year MPhil MPhil in Population Health Science at Wolfson College, and is an Early Career Researcher (ECR) with the Global Diet and Activity Research (GDAR) Network.
Muhammad's research looks at global health care with a particular focus on the social and economic determinants of health. Having completed his first degree in environmental health at the American University of Nigeria in Yola, he then worked as a consultant in Abuja before Cambridge came into his sights.
"I applied to the University's Population Health Science program because within that there's a global health stream which I'm really interested in.

Being in a prestigious and historic University like Cambridge is a massive opportunity. Thousands of students apply here and only a small proportion get in so it's one of the greatest achievements of my life to get accepted here."
His research is focused on developing age-friendly, sustainable cities. As people are living longer, it's becoming more apparent that cities aren't suited to the needs of the elderly, he says. Roads can be wide, pavements high, hospitals are often difficult to get to.
"Many cities have younger populations but the 19-year-old of today will one day become the elderly person of the future. Sustainable cities for the future means designing them right now."
Muhammad will be taking this research forward when he moves to Cape Town in South Africa to work for the African Centre for Cities. He recognises that if he hadn't come to Cambridge this opportunity may not have arisen.
He acknowledges the Mastercard Foundation has created a real opportunity and a secure learning environment for him. Muhammad's scholarship enables him to study for six months.
"It gives me the opportunity to return to Africa and contribute, to change narratives and to do things in better ways."
But it isn't just Africa that will benefit from his research. Muhammad's dissertation examined the built environment here in Cambridge, with a focus on infrastructure for cycling and physical activity, comparing two different areas of the city, one less deprived (Newnham), the other more so (King's Hedges).
Outside of his academic research, Muhammad is a management consultant. He hopes to set up a healthcare data and information management consultancy that will address the problems associated with the lack of data and poor-quality data used in healthcare research, governance, planning, and interventions in Africa.
During his time at Cambridge, he was actively involved in the African Society of Cambridge University as its Secretary.
---